Signature Milky Vanilla Rainbow Cake
Regular price
Sale price
$79.00 SGD
Unit price
per
Sale
Sold out
Brighten up any celebration with our delicious Rainbow Cake! This Rainbow Cake is layered with fresh vanilla cream and soft cake sponge - the perfect cake you will ever have! Our cake recipe is lower in sugar in the cake mix - perfect for your precious little ones! We offer a variety of Rainbow Cakes, all equally delicious and ranging from vivid and bright to abstract and less literal.
Turn the party into a colourful confetti situation with our rainbow cakes. Made for the dreamers, these rainbow masterpieces conjure sweet memories of childhood happiness. Made from our signature vanilla cake recipe with 6 Layers of colourful yet soft rainbow cake. Not only is this rainbow cake beautiful and colorful, but it also tastes really delicious.
Delivery T&Cs

- Please ensure that recipient would be home within the stipulated timing.

- Our delivery personnel will stay at each location for a maximum of 15 minutes. Any missed deliveries would incur a $15 redelivery fee and depend on availability.

- Please make sure to provide the complete address before placing any order.

- We would need a minimum of 3 days' notice for any changes to the delivery address.
Cake Flavours Guide

Click here for cake flavours guide.
Cake Sizing

Classic Size -
4 Inch: 2-5 Pax
6 Inch: 6-10 Pax
8 Inch: 15-20 Pax

Tall Size -
4 Inch: 6 -8 Pax
6 Inch: 10-15 Pax
8 Inch: 20-25 Pax

Two Tier -
4" by 6": 15-20 pax
Tall 4" by 6": 20-25 pax
6" by 8": 40-50 pax
8" by 10": 70-80 pax

Three Tier -
4" by 6" by 8": 80-90 pax
6" by 8" by 10": 130-140 pax
Important Note

- All the decorations in the photo will be included.

- For other toppers, kindly purchase it here.

- Please note that there may be a slight variation for the design as they are all handmade by our team.

- For other cake sizes that you wish to order, kindly Whatsapp us at 9376 6551.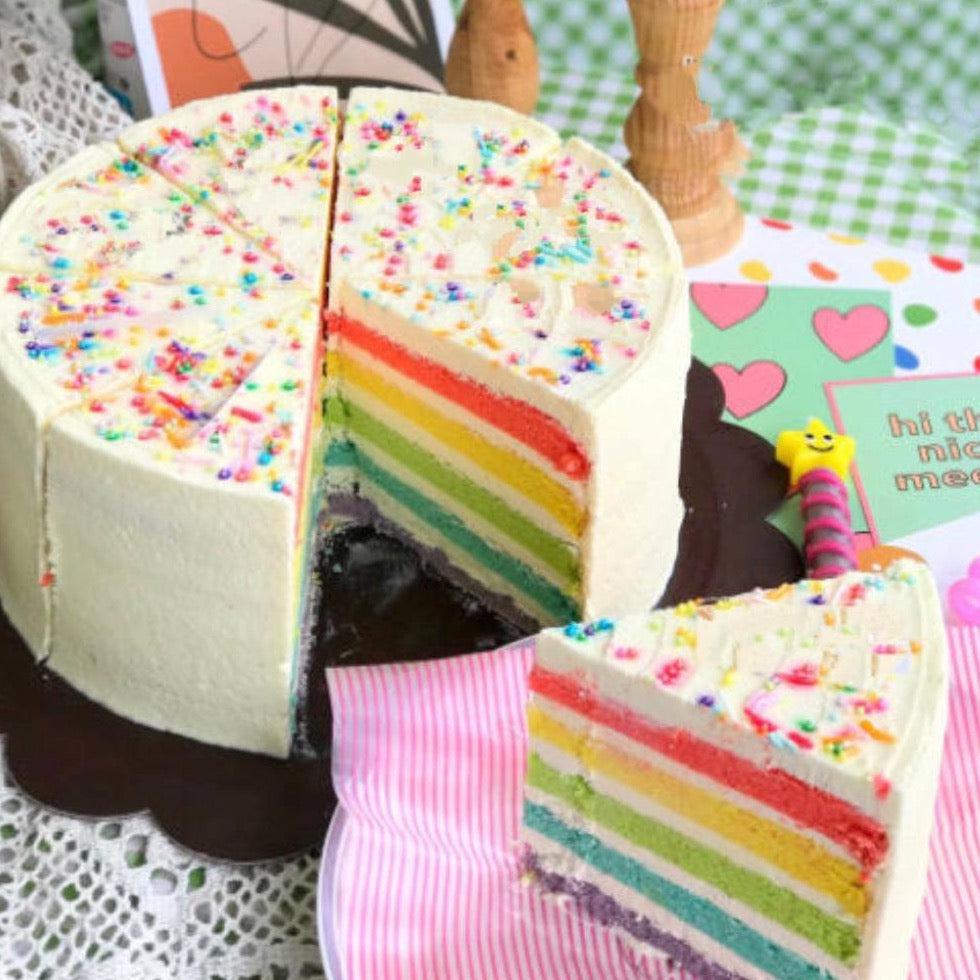 Shippings

Free delivery for all orders.

Delivery Time

Monday to Saturday:
09:00 AM - 12:00 PM
12:00 PM - 03:00 PM
03:00 PM - 06:00 PM

Sunday:
09:00 AM - 02:00 PM